MEET THE YOUNG COUPLE BEHIND VERMONT'S BIG PICTURE FARM, WHERE THE AIR IS CLEAN, THE HOMEMADE CARAMELS ARE DELICIOUS—AND THE GOATS ARE THE GREATEST OF ALL TIME.



We all dream about it. Living a less connected, more grounded, so-called "simpler" life. Buy a farm, raise some kids and some animals, and just … be.
For Louisa Conrad and Lucas Farrell, the owners of Big Picture Farm in Townshend, Vermont, it was a dream achieved through hard work, ingenuity, and a little bit of luck. The couple, both 40 years old, originally met at Middlebury College, and after each attended grad school on the West Coast, Louisa says, "Vermont was the only place we could agree to come back to."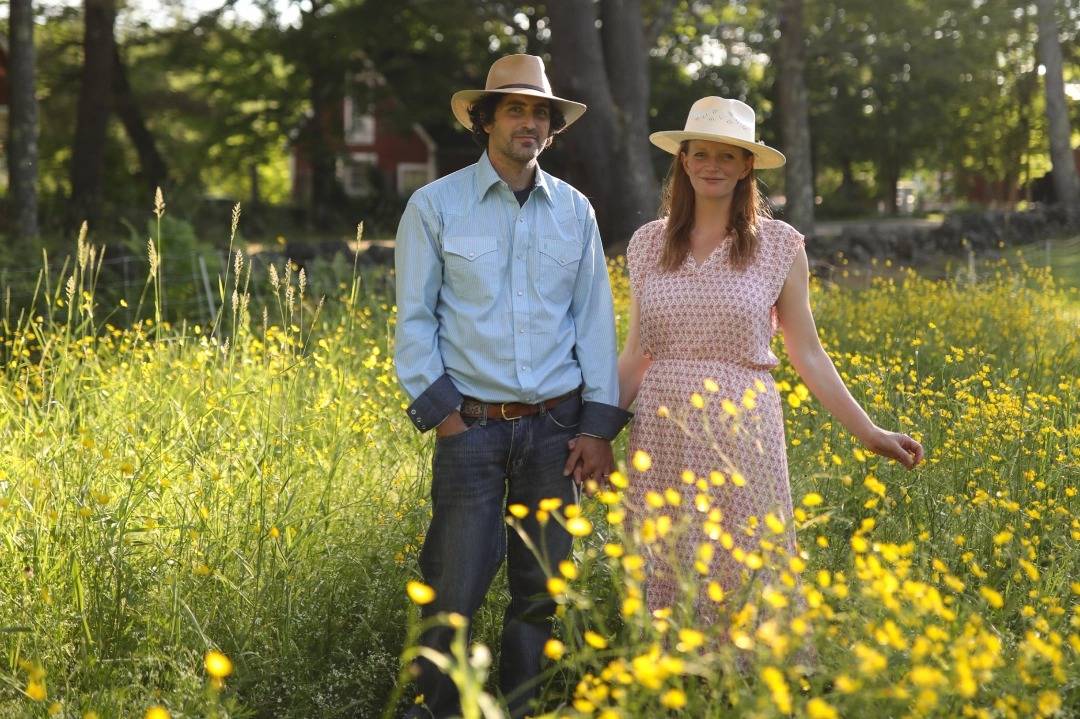 LUCAS (LEFT)) & LOUISA (RIGHT), OWNERS OF BIG PICTURE FARM. LUCAS WEARS THE LIMESTONE OUTDOOR HAT, AND LOUISA WEARS THE ANDROMEDA VENTED STRAW—COMING SUMMER 2022.
As artists and writers, the couple found that "all of the interesting things were happening at the intersection of agriculture and art in Vermont." After a cheesemaking apprenticeship, they both "just fell in love with the goats." Seeking to work with the animals in a sustainable way—both environmentally and financially—they eventually found work on another farm that would let them raise four goats of their own.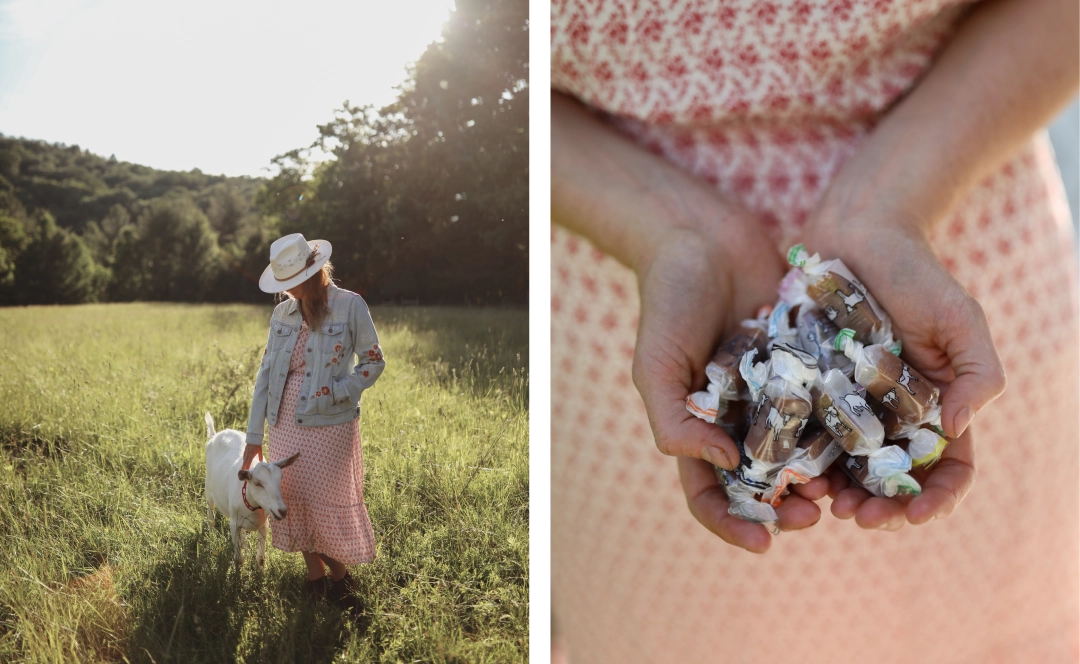 Realizing the area was already filled with talented cheesemakers, they focused their efforts and found their niche as confectioners, selling their goat's milk caramels under the name Big Picture Farm—a picture that 10 years later would be much bigger than they could've imagined.
"Living with the animals is very grounding … It forces you to be more present."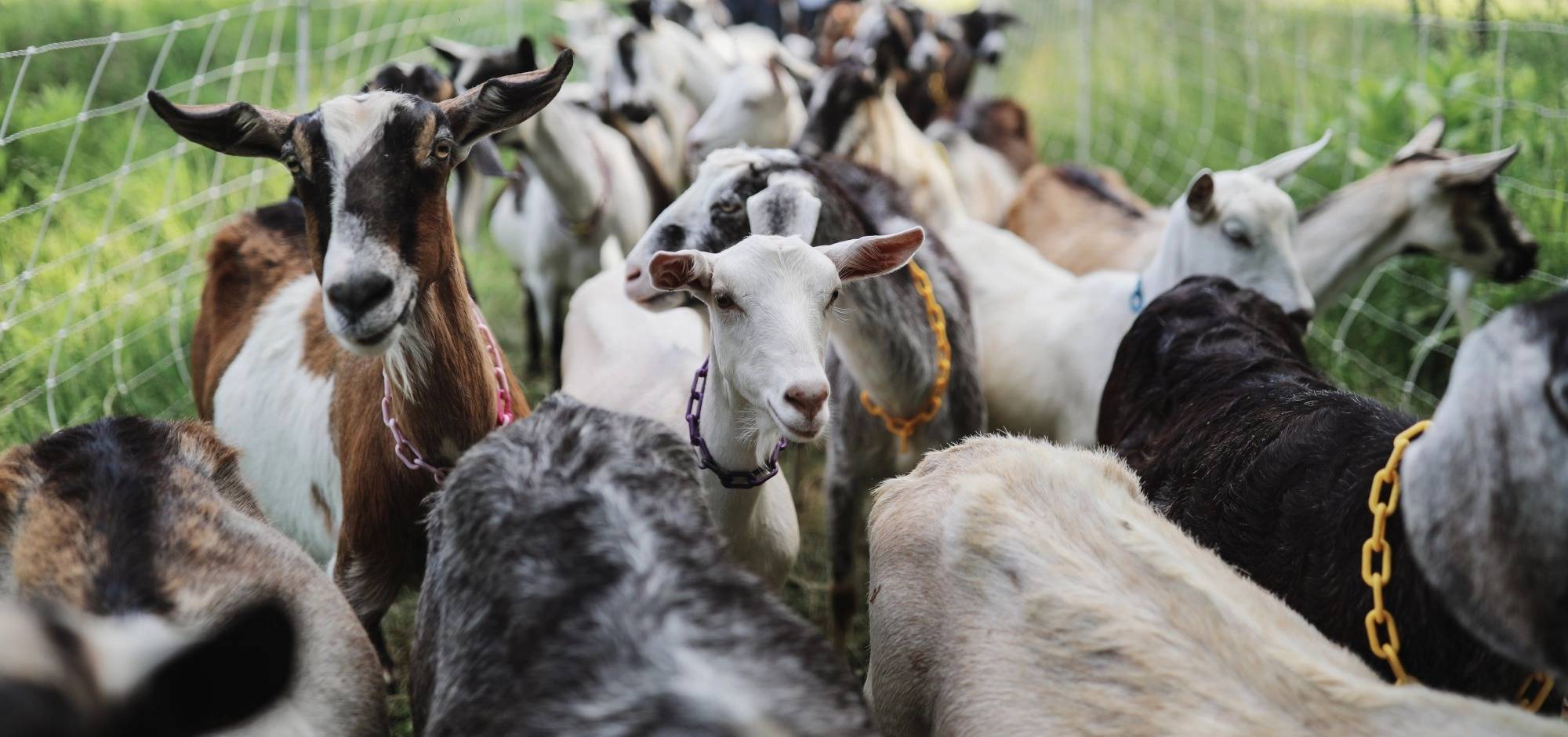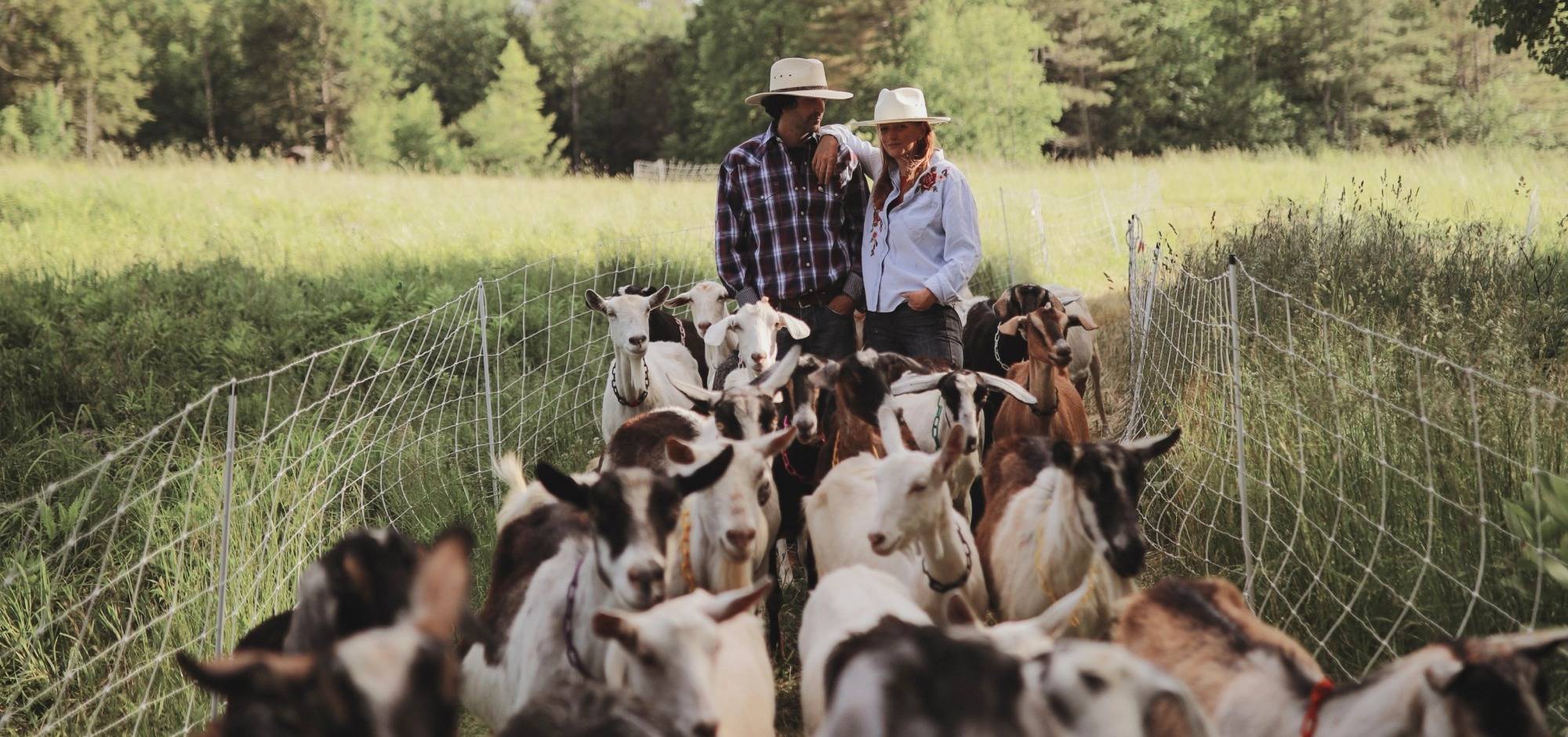 The caramels themselves were a hit. "The secret ingredient is 100% the milk that we use from our goats that are extremely spoiled," Louisa says. But it is the couple's artistic sensibilities, love of storytelling, and social media savviness that have elevated their success. The spoiling of the goats is chronicled on their Instagram, the products they sell are as meticulously designed as a Wes Anderson film, and their website features Farrell's beautiful (and heartbreaking) tributes to animals they've lost. But it was a while before Big Picture became a full, actual farm—one that was truly their own. The couple bought the pastoral property from the older farm owners over seven years, taking out loans as necessary and eventually moving into the nine-bedroom farmhouse in 2017.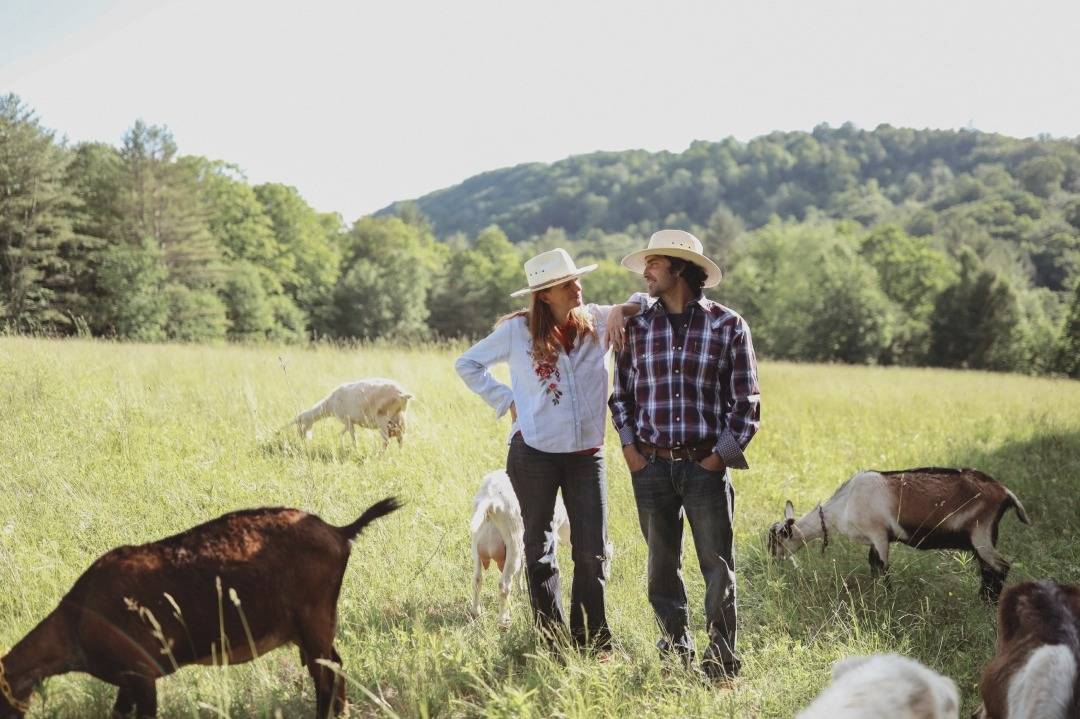 "The stories behind what's going to happen in American agriculture are largely dependent on how these transitions go from all of the older farmers to the next generation," Louisa says, noting how lucky they were with their former landlords. "You're investing so much blood and sweat and finances into the land. So if the land's not yours, it's a harder prospect to pull off."

Indeed, it's a very particular American way of life that won't sustain unless some young families continue to work family farms and older farm owners continue to provide a workable way to pass the land on.
Raising their two young children (along with a herd of goats, 8 cats, 2 dogs, 30 hens, and a few pigs) in such a rural environment is not without challenges. "For the kids, it can be lonelier, living so far out. It's harder to set up play dates, but on the flip side there are lots of snails and slugs … and my daughter is really into slugs and snails and bugs and finding homes for them. She wants to be a scientist," Louisa says. "But I think there is a sense of magic out here that is possible."
"Living with the animals is very grounding," she continued, "they're not aware of the larger world at play. They're going from one day to the next. It forces you to be more present."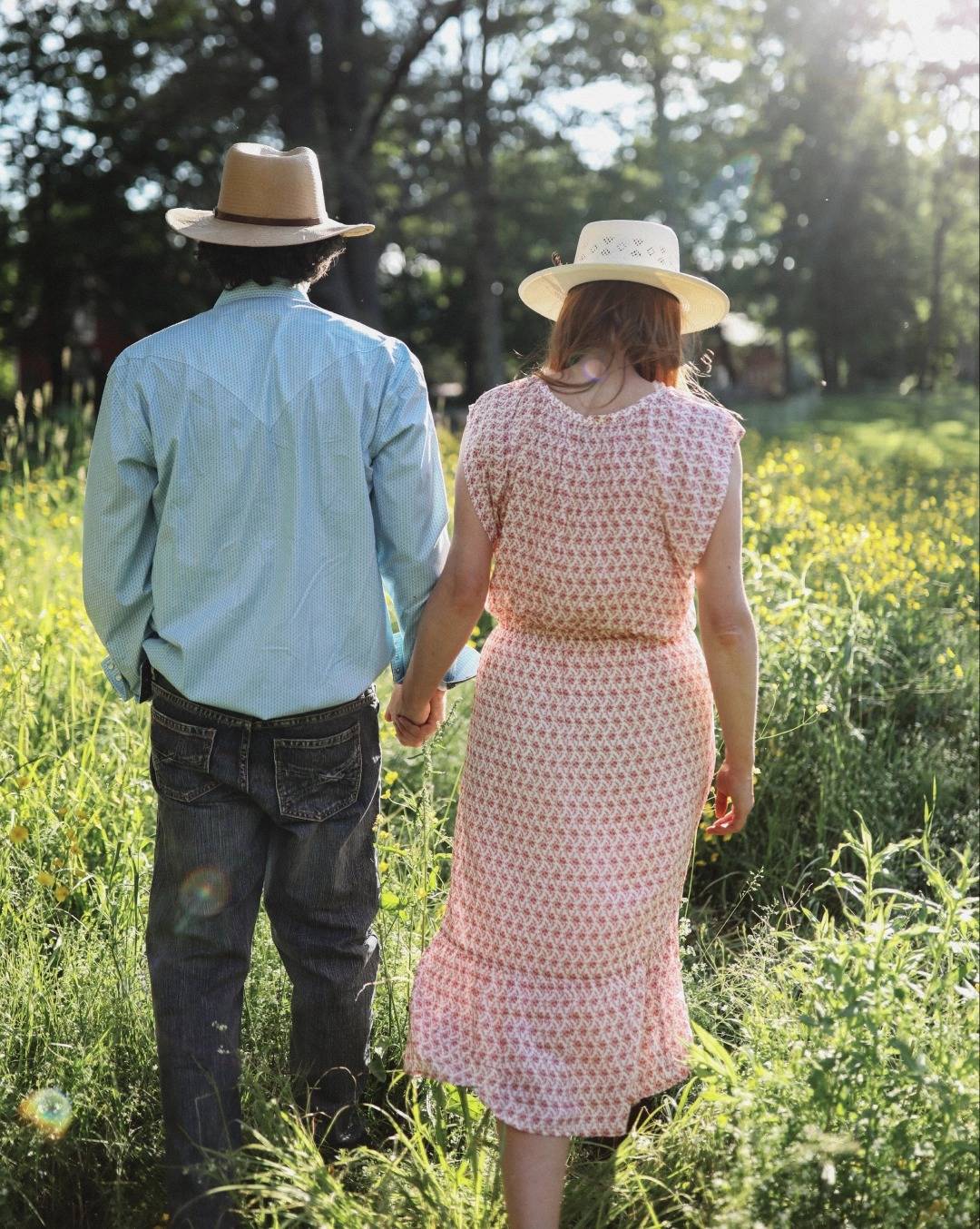 Learn more about Big Picture Farms, their goats, homemade products, and ways that you can visit the farm (including some pretty amazing overnight rental options) on their website: bigpicturefarm.com
Andrew Paine Bradbury is a writer and musician based in New York City.